Take Advantage of Early Bird Savings; Regular Registration Rates Begin July 5th
AGC's annual Contractors Environmental Conference (CEC) is coming to the nation's capital this fall.  Environmental and sustainability professionals in the construction industry will come together on October 5-6, in Washington, D.C. at the Hyatt Regency Washington Capitol Hill.  If you're still making up your mind on whether to attend, take a look at the schedule of events and register today to lock in your savings.  Regular rates apply beginning July 5th.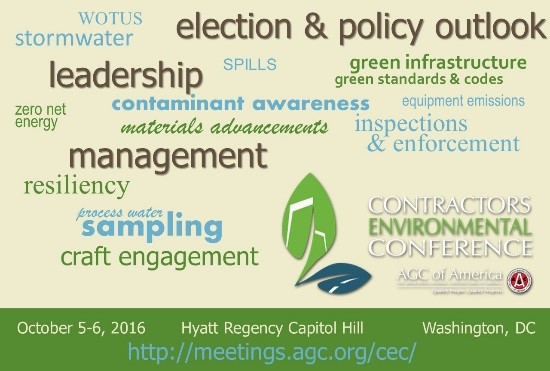 Register today via the conference website at http://meetings.agc.org/cec/.  Bookmark the conference website — we updated it with a printer friendly version of the schedule of events and will continue to update it with more details and information.  If you want to know more about the conference, listen to your peers in this great member testimonial video about AGC's CEC.
In addition to great plenary sessions on leadership, management, technology and trends; breakout sessions let you choose the right balance between environmental compliance and sustainability education that you need.  Take a look at the schedule of events.
Sponsorships
AGC's 2016 Contractors Environmental Conference sponsorship brochure identifies many ways companies can support AGC's environmental education.  We are pleased to announce that the International Erosion Control Association and returning sponsors Zurich NA and RP Alliance have already signed up to support the 2016 CEC.  IECA members can now receive the AGC member rate for registration to the conference (use the code IECA16CEC during registration).  If you're interested in sponsoring the event, check out the brochure here. For more information about sponsoring, contact AGC's Cheyenne Brewbaker at cheyenne.brewbaker@agc.org.
Register today for AGC's 2016 CEC at http://meetings.agc.org/cec/ (click on the green "register now" button).  For questions about the conference, please contact AGC's Melinda Tomaino at tomainom@agc.org.